Deviled eggs
I am looking for a good Deviled egg recipe. I am wanting to use dillo dust in them. Any suggestions?
1) place raw eggs in pot and cover with COLD water
2) put on stove and bring to a boil
3) turn off burner and move pot off burner
4) wait 15 minutes
5) run COLD water over eggs for 10 minutes
6) peel eggs
7) cut eggs in half
8 scoop yolks out into a bowl
9) mix yolks with mayo –– add mayo a little at a time ( add dillo dust to taste at this time)
10) putt yolk mix into zip lock bag
11) cut off corner of bag
12) squirt yolk mix into egg whites
13) garnish with more dillo dust
14) stuff them in your pie hole
The "devil" in deviled eggs is a reference to heat. Cayenne, red pepper flakes, hot sauce of choice, but
add SOME sort of heat to them. Doesn't have to be blistering hot (ala blairs, armageddon, source) type
hot sauces but they should have some of it. I know a guy that also likes to add pickle juice to his, kinda
like a dirty martini - and they are rediculously good.

Cooking the eggs correctly is an important step. Keep the green "sulfur" ring away from the yolks. This
is done by a number of methods (like described above) - but for the love of God dont boil the bejeesus
out of them. It's also important to crash cool them - I like ice water baths.

This is a great thing to experiment with. Even the bad recipies come out good!
mayo / salad dressing / with a smidge of mustered...
ya can mix up all this to taste all day
sprinkle crushed red pepper on and or
make em to the bland side and offer...
up the condiments to satisfy all the guests ?????


Must contain dry mustard. Absolutely must.

For a twist, sprinkle with Old Bay rather than paprika.
I've been following this thread for a while and finally decided to pull the trigger.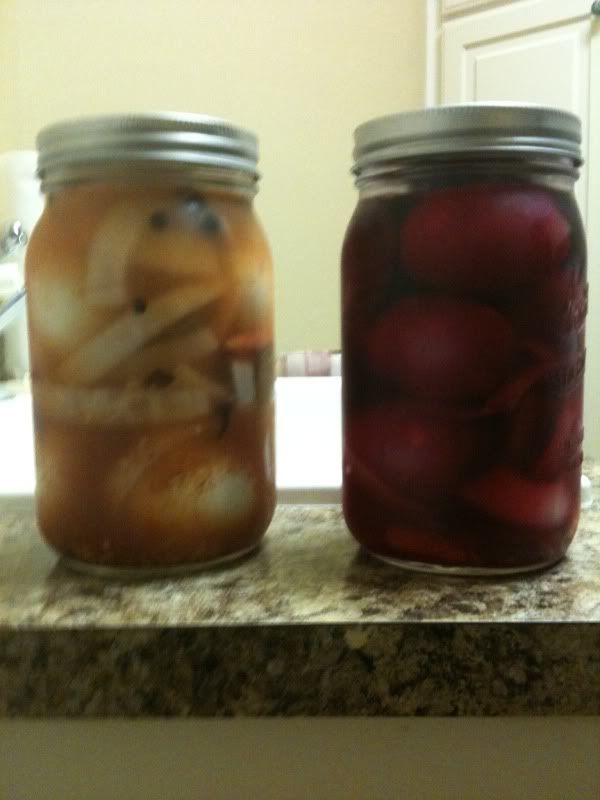 ETA; sorry wrong thread I thought this was the pickled egg thread. anyway mine are pickled not deviled.
I'll only add that putting salt in the water when the eggs are boiling really helps peeling. I don't mess with any novelty "dust". Just paprika on mine.
We use tobasco and grey poupon, along with miracle whip in the mix. These things are added according to taste and consistency.

Another good tip: if you don't have a deviled egg holder, you can place the halves on a plate covered with a tortilla. The tort keeps them from sliding around.
I like to fry up some lardons of bacon,
And stick one in each deviled egg!
Originally Posted By edb66:
I like to fry up some lardons of bacon,
http://www.ayearwithjulia.com/wp-content/uploads/2010/09/lardons.jpg
And stick one in each deviled egg!
You are now my hero!