The knucklehead in the front. We're calling him Ruger.
13 month old GSD rescue. My wife was taking Kayla (left) to the vet to get the staples in her stomach removed - her stomach flipped 2 weeks ago requiring emergency surgery. Luckly we got her to the vet in time. While at the vet she found this little ball of energy looking for a new home. The story she got from the vet was that he was supposed to be trained as a police dog but that he wasn't aggressive enough. Not quite sure i belive that but he's a great dog none the less. We're going to have him neutered soon.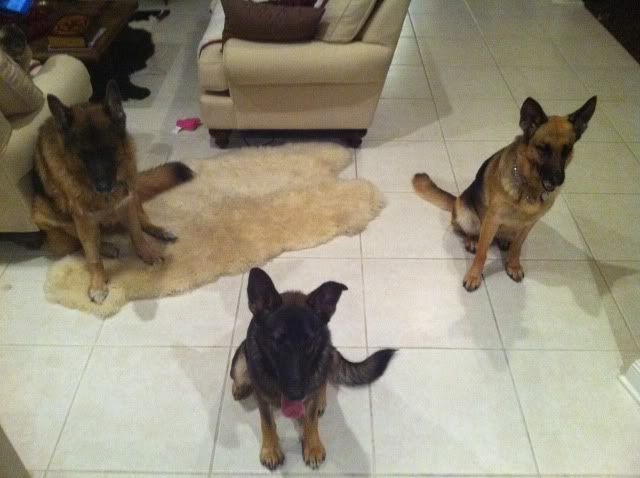 Just noticed the little alien on the sofa (top left). That's Bubba (pug rescue - yes, he came with the name...)
from right to left: small, medium, large.
Originally Posted By NimmerMehr:
from right to left: small, medium, large.
Yep - Anka on the right is 78lbs.
Ruger - not sure but probly 80-85 (he's taller than Anka but not as solid.
Kayla was 107lbs before her surgery. She's probaly 95-100lbs now. She's Belgian. Her head is size of a medium sized cow head.
We accept the fact that we live on the scene of a western movie but those aren't sage brushes blowing through our home, but dog fur.
And we have all tile/concrete floors and vacum every day.
Great looking group of dogs. How does the little pug Bubba get alone with all 3 big dogs.
Congratulations. That's probably one busy household at times ..............................

Good looking family.

-JC